Posted by RAIL19 on Sep 22nd 2017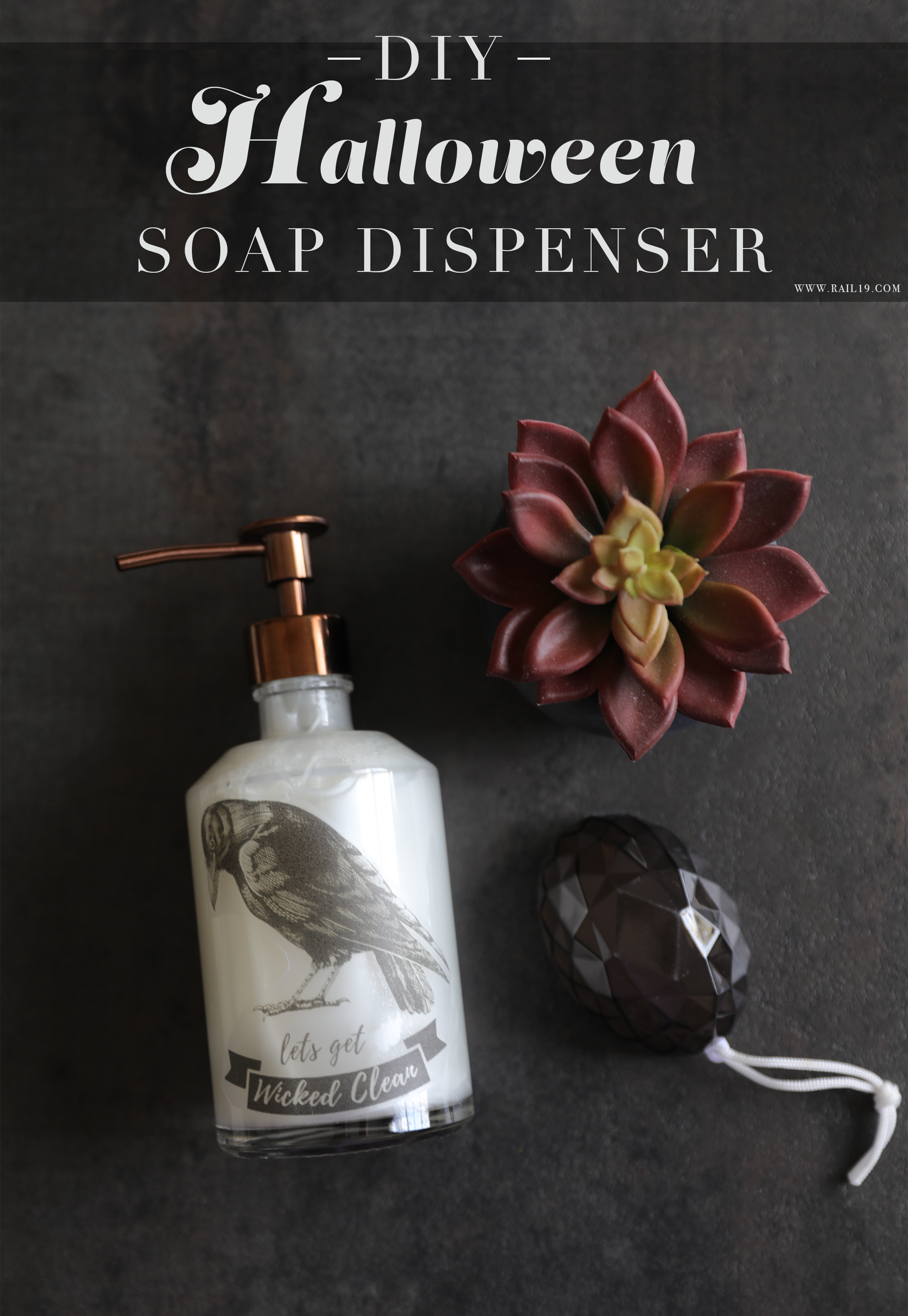 Decorating for Halloween is a treat. Setting out scary pumpkins on the porch and decorating the table with a ghoulish theme is all part of the holiday fun. Family + guests love the fun decor ; especially at that upcoming Halloween party. To keep your kitchen sink and bathroom sink Halloween ready, we have created this fun and easy Halloween Soap Dispenser DIY.
Here's what you'll need :
Avery 8 1/2" x 11" Glossy Clear Sticker Project Paper (4397) - ( or any brand Transparent Full Sheet Sticker Paper)
Scissors (if you prefer a perfection, you'll need an Xacto knife)
Clear Sealer (to water proof)
Laser | Inkjet Printer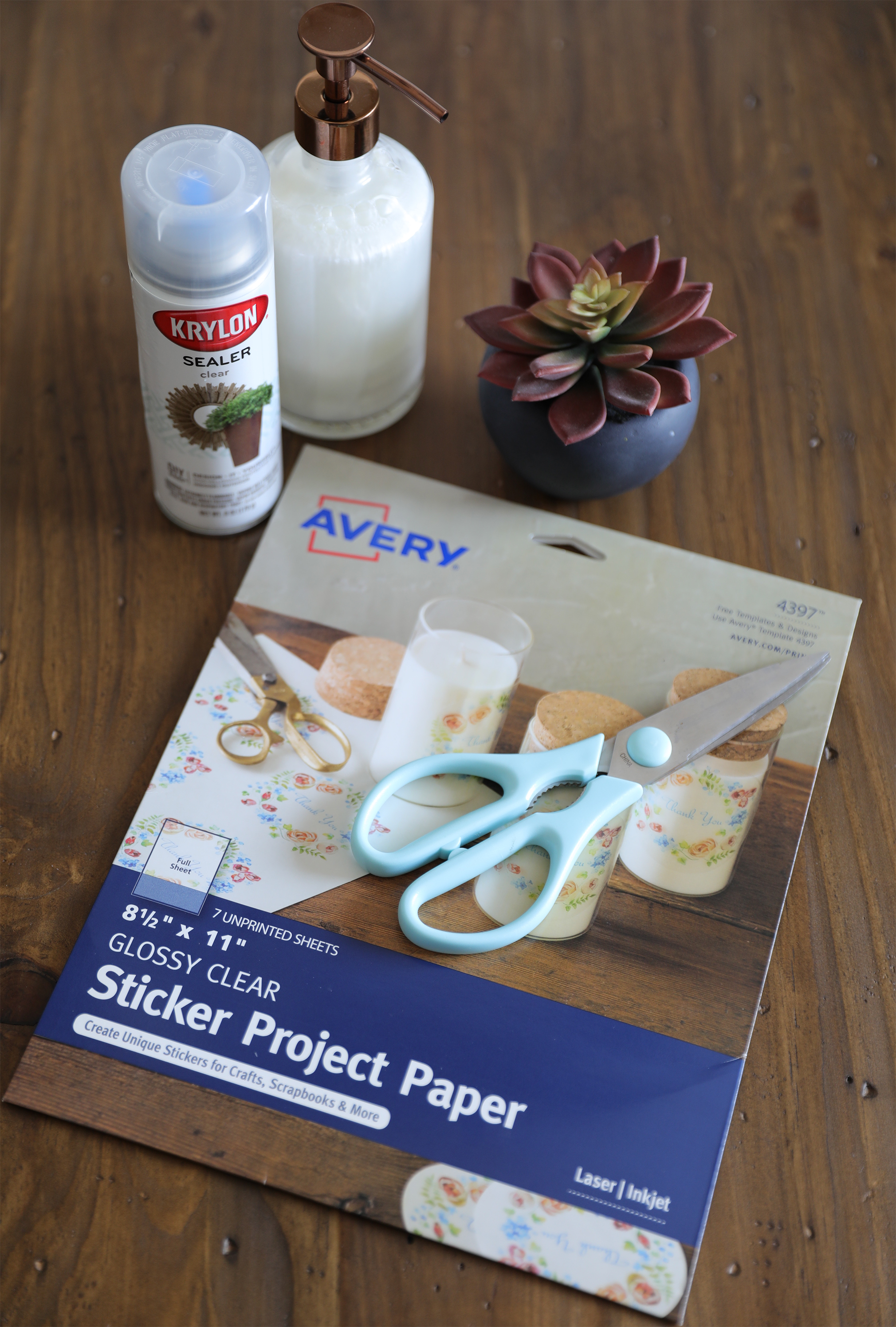 Start by selecting the size glass soap dispenser you wish to use. If you are making several dispensers at varying sizes, be sure to scale your design to fit your dispenser.
Next choose your design. We chose graphic elements and arranged them together to design our own, and also used some pre-made designs that were editable. You can find free graphics at Graphics Fairy and other free graphic websites, or you may choose to use low cost graphics at website like creative market. If you are more experienced with graphics, you can use software like Photoshop or you can simply use the Avery website to create your own using their free graphics.
Once you have chosen your design , simply visit Avery Design + Print Area to load or make your design. We recommend printing a test print on regular paper to be sure your design is the size you want. We were able to place 3 designs on 1 sheet of the 8 1/2 x 11" sticky paper - we could have fit 1-2 more.
After you have printed your designs, you will then spray them with clear sealer. Before cutting your designs, spray your sheet with a clear sealer that is made to seal from moisture. This is a very important step since your dispenser will be in a moist area and in contact with soap/water. Be sure to do this outside and allow at-least 1 hour of drying time. We used a matte sealer, if you prefer a more see-through look, we highly recommend a sealer that is clear and glossy.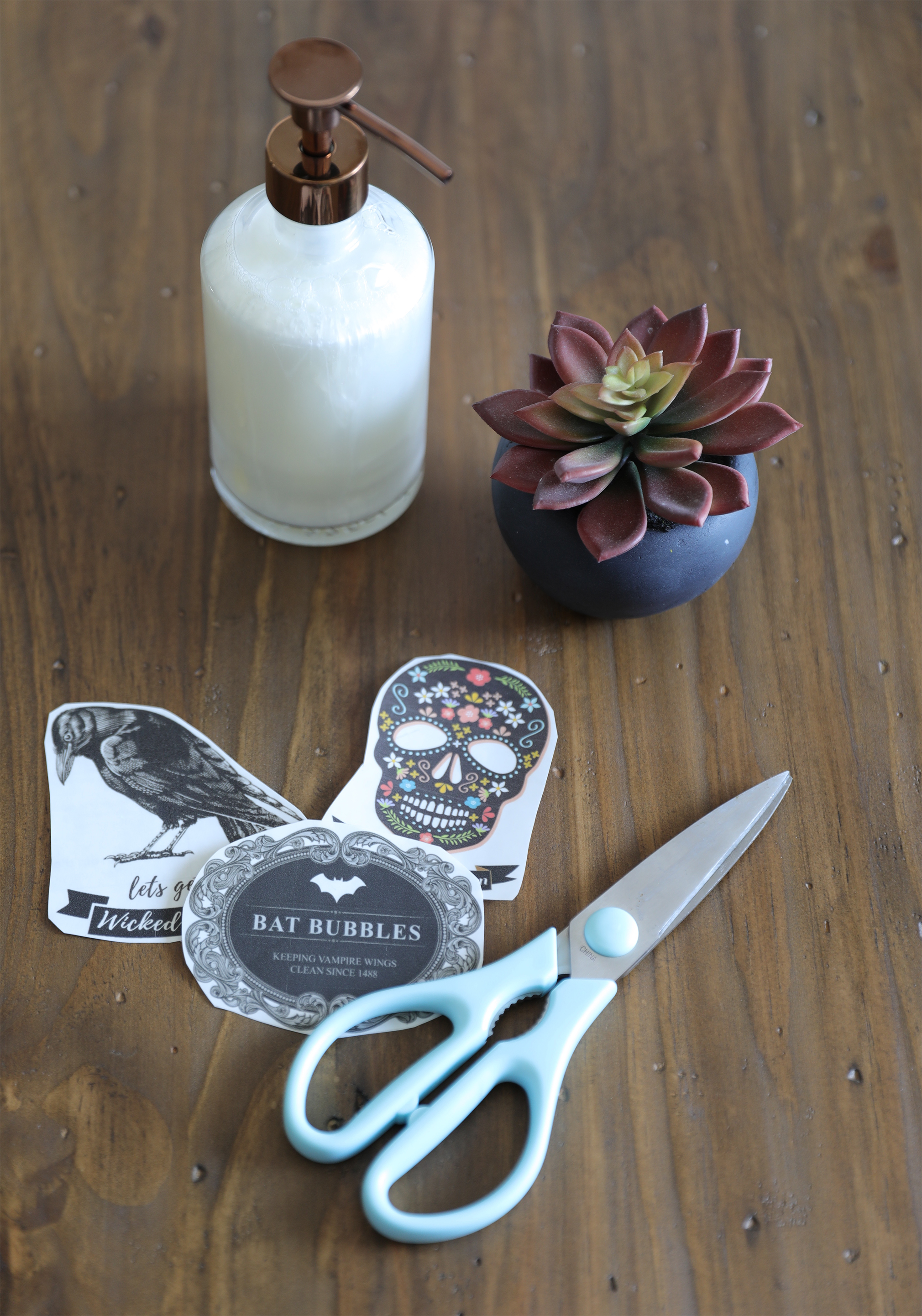 Once dry, cut around your design using scissors. As mentioned above, if you prefer a perfect cut, an Xacto knife would work best.
Simply peel the back of the sticker, and carefully stick it to your soap dispenser. *If you do not place it on perfectly, no worries, you have about 2-3 tries before the edges begin to curl.
We made a few fun designs for inspiration. These are fun for the Halloween season, or if you are feeling creative, try out a few designs for different holidays, occasions, seasons, or even monograms.